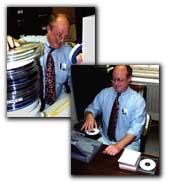 Mainframe to PC data conversion:


Let us replace your stacks of tape cartridges with shiny, new CD's! We promise quick turn-around and 1/3 market price.


Analytic File Generation


We go well beyond the competition because we have a standard template for claims and survey databases that is applicable to 90% of the analyses done in the past 5 years. This provides the basis for a highly stream-lined database design process.
We will build custom databases based on client's requirements including health services specialties like; public use ACG's; usual source of care; age and gender demographic characteristics, matching to county, state or national data when appropriate. Analytic files may also be generated from survey and financial record data.